The east coast of Australia has experienced above average rainfall for much of the year due to La Niña. Southern Queensland and northern New South Wales experienced severe flooding events earlier in the year. Now parts of Victoria and New South Wales brace for more flooding as rivers rise due to rain.
During these extreme weather events, our emergency services rely heavily on satellite imagery and data products from Geoscience Australia and other institutions. These help them plan for floods and other natural disasters, and coordinate the emergency response and recovery efforts.
Earth observation data and emergency services
Earth observation imagery and data are vital to our emergency services. During natural disasters, they provide the ability to:
Plan responses
Assess potential impacts of fires and floods
Issue early warnings
Improve response times
The imagery and data is also used to model the impact of future events. This allows more accurate assessment of populations and assets at risk, and the resources and processes needed for emergency services to more effectively respond to disaster events.
There are several products and services available to emergency services and other bodies, such as local governments. These products and services help us plan for and respond to disaster situations. We profile some of the more common products, with a focus on data and services used in floods (given recent events).
Data products and services to help during floods
Floods can be very expensive (PDF) and tend to cost more than other natural disasters. Data products that help contain potential damage, help services respond quickly and safely, and allow for a more effective recovery effort are crucial to getting communities back on their feet.
The Copernicus Emergency Management System (CEMS)
In March 2021, extreme rainfall on the east coast caused massive flooding in New South Wales and southeast Queensland. The severity of the weather event and the widespread flooding, stretching from metropolitan Sydney to the North Coast, prompted Geoscience Australia (on behalf of Emergency Management Australia and state emergency services) to request activation of the Copernicus Emergency Management System (CEMS).
CEMS uses imagery from the European Union's Sentinel satellites and geospatial data to provide mapping services during natural disasters and emergency situations throughout the world.
During floods, CEMS can map the impact and extent of flooding at the neighbourhood and suburb level. The Sentinel-1 satellite has the ability to capture imagery through clouds and rain, day or night, making it particularly useful for monitoring floods. This is especially important when bad weather and flood damage limits the use of aircrafts.
Map preview of the Kempsey area during the March 2021 floods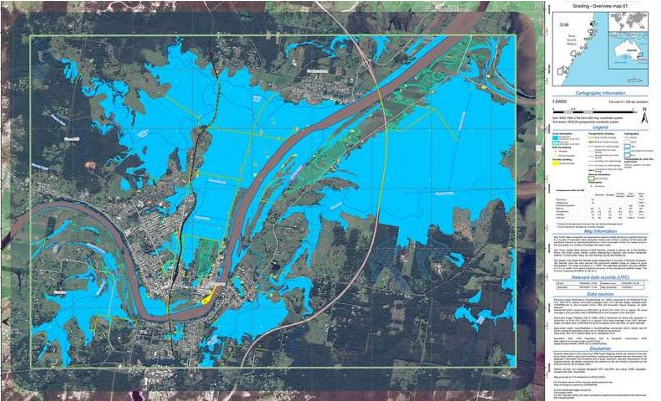 Australian Rainfall and Runoff (ARR)
Geoscience Australia publishes and maintains the Australian Rainfall and Runoff (ARR) service. ARR consists of guidelines, data and software that can be used to estimate flood characteristics in Australia.
The ARR guidelines incorporate advances in flood estimation techniques based on improved knowledge of flood behaviour and more data. The ARR provides guidance on peak flood flow and focuses on other important flood characteristics for flood estimation.
ARR can be used to model potential flood hazards and impacts to communities, new developments and critical infrastructure. It's also a valuable resource for emergency management services and local governments to develop effective response plans, warning systems and thresholds, and flood mitigation levees and other structures.
Australian Flood Risk Information Portal (AFRIP)
The Australian Flood Risk Information Portal provides users with access to large sources of standardised flood risk data, including flood maps and satellite imagery.
The information portal contains the Australian Flood Studies Database, which includes flood studies and research uploaded and continually maintained by local, state and territory governments, as well as other authoritative sources.
The catalogue of studies and maps are used by emergency services managers to better prepare for flood risks and also help engineers, planners and insurance companies.
Screenshot of Australian Flood Risk Information Portal
Water Observations
Digital Earth Australia's (DEA) Water Observations is a derived data product that uses an algorithm to identify water bodies in Landsat satellite imagery. Each pixel of satellite imagery is classified as 'wet', 'dry' or 'invalid'.
Water Observations are available since 1987. They can be analysed over the course of a year or seasonally to identify regular bodies of water where areas have flooded in the past and areas where flood water generally does not flow.
Other products and data
Geoscience Australia produces numerous datasets and products to help emergency services and government bodies respond to flood and other disaster events.
The National Exposure Information System (NEXIS) provides consistent exposure risk analysis for dwellings, buildings and structures, infrastructure, agricultural commodities and businesses. NEXIS enables emergency services to understand what elements (people, housing, infrastructure, etc.) are at risk due to floods or other events.
The Digital Earth Australia's Hotspots uses satellite imagery to monitor bushfires, showing areas with high levels of infrared radiation. The Hotspots service can potentially detect new bushfires within 17 minutes of the satellite overpass, thanks to the Japanese Himawari-8 geostationary satellite.
Geoscience Australia also has a community safety team that collaborates with emergency managers. They provide data, tools, risk and hazard information and guidance to help emergency services better prepare for disaster events.