UNICEF's open data
Most of us know UNICEF as an aid organisation helping children in need. UNICEF's mission that "every child has the right to grow up in a safe and inclusive environment" remains the core purpose of the work carried out around the world.
The UNICEF Data Warehouse underpins UNICEF's hands-on work to support children. As UNICEF says, "knowledge is a classic example of a global public good. As part of its mission to protect children's rights and well-being, UNICEF designs, collects, analyses and publishes indicators on the state of children and women around the world. These data play a vital role in informing national, regional and global policy and programming decisions, while also directing international assistance."
UNICEF's open data covers a wide range of topics, such as:
UNICEF also provides detailed blogs, interactive data visualisations and Sustainable Development Goals per country. There is a wealth of data available within the data warehouse.
Salsa takes a deep dive into a couple of datasets.
Life expectancy
UNICEF's data provides the life expectancy for males and females across 247 countries from 2013 until 2023.
Females have a greater life expectancy than males throughout the world, living on average five years longer than males.
The 10 countries with the lowest life expectancy all come from the African continent.
Countries with the highest life expectancy are scattered throughout Europe and Asia
Average Life Expectancy
Some welcome news is that when comparing the data from 2013 to 2023, countries with the greatest increase in life expectancy growth from 10 years prior include three of the African countries with the lowest life expectancy.
Life expectancy increase 2013 to 2023
Government expenditure on health
Many of the countries with the lowest % GDP government spend on health also fall in the bottom of the life expectancy table, in particular many of the African countries.
Cuba has the highest percentage of government GDP spend on health of all countries. Not surprisingly, Cuba is also the country with the highest percentage of doctors per 1000 people.
GDP health spend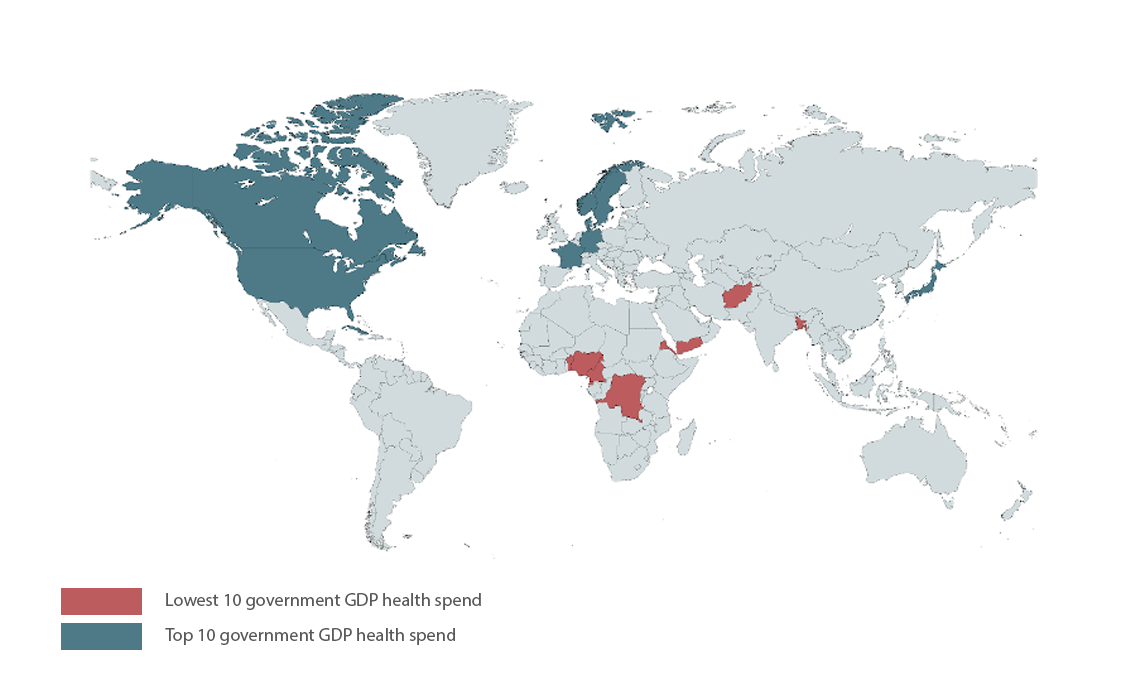 Government % of GDP on health spend
Salsa Digital's take
Open data is more than just making statistics publicly available. Open data is about sharing information to allow others to learn from the patterns and trends of data. Learnings from data can help humanity by guiding better pathways. Salsa's ethos is to be more open, more connected and more consolidated. We believe that UNICEF is working towards the same goal and we congratulate them on their endeavours.
About UNICEF
UNICEF was created in the aftermath of World War II by a resolution by the United Nations General Assembly in 1946. The original mandate was "to help children and young people whose lives and futures were at risk — no matter what role their country had played in the war."
Today, 77 years on, UNICEF works in over 190 countries to reach children and young people in the greatest need.