Whole-of-government/whole-of-organisation digital platforms
Salsa has created a model for developing complete digital platforms that organisations can use to consolidate disparate websites and drive digital transformation. To date, we've developed several large-scale platforms, including one for a university client, the Federal Government's GovCMS and the Victorian Government's Single Digital Presence (SDP).
Our blueprint for these large-scale platforms consists of four technical elements:
An open source platform
Open source applications including a CMS
An open source design library
Tooling
On top of this technical layer we have four streams that run across the technical elements:
The program
Governance
Services
Community
This blog focuses on how to create and maintain a thriving community around a whole-of-government or whole-of-organisation open source digital platform.
The importance of community
The open source ethos is built on sharing and community. And when it comes to new, large-scale digital platforms, an active community is essential for adoption at scale. So how does a platform achieve community engagement? With a deliberate open source community engagement plan underpinned by an open source community engagement blueprint.
What a successful open source community looks like
A successful open source community builds a self-sustaining program that doesn't rely on one party to build something great, but rather provides a vehicle for contributions by community participants. This means:
Contributions increase
Momentum is built
Participants feel included
Re-use, sharing and success become normal
Traditional/conservative attitudes change
Participants win
The end user wins
Barriers to innovation are lowered
Savings from the reduced costs of running a large-scale digital platform with an open source community can be invested in innovation and user needs rather than being spent on base infrastructure, primary components, approaches and other commoditised artefacts.
In 'return' the community gives back to the platform through contributions. If the barrier to adoption is low, savings are significant and real, and a roadmap exists of prioritised enhancements. Participants can contribute to the platform for the greater good of the community.
Open source community engagement blueprint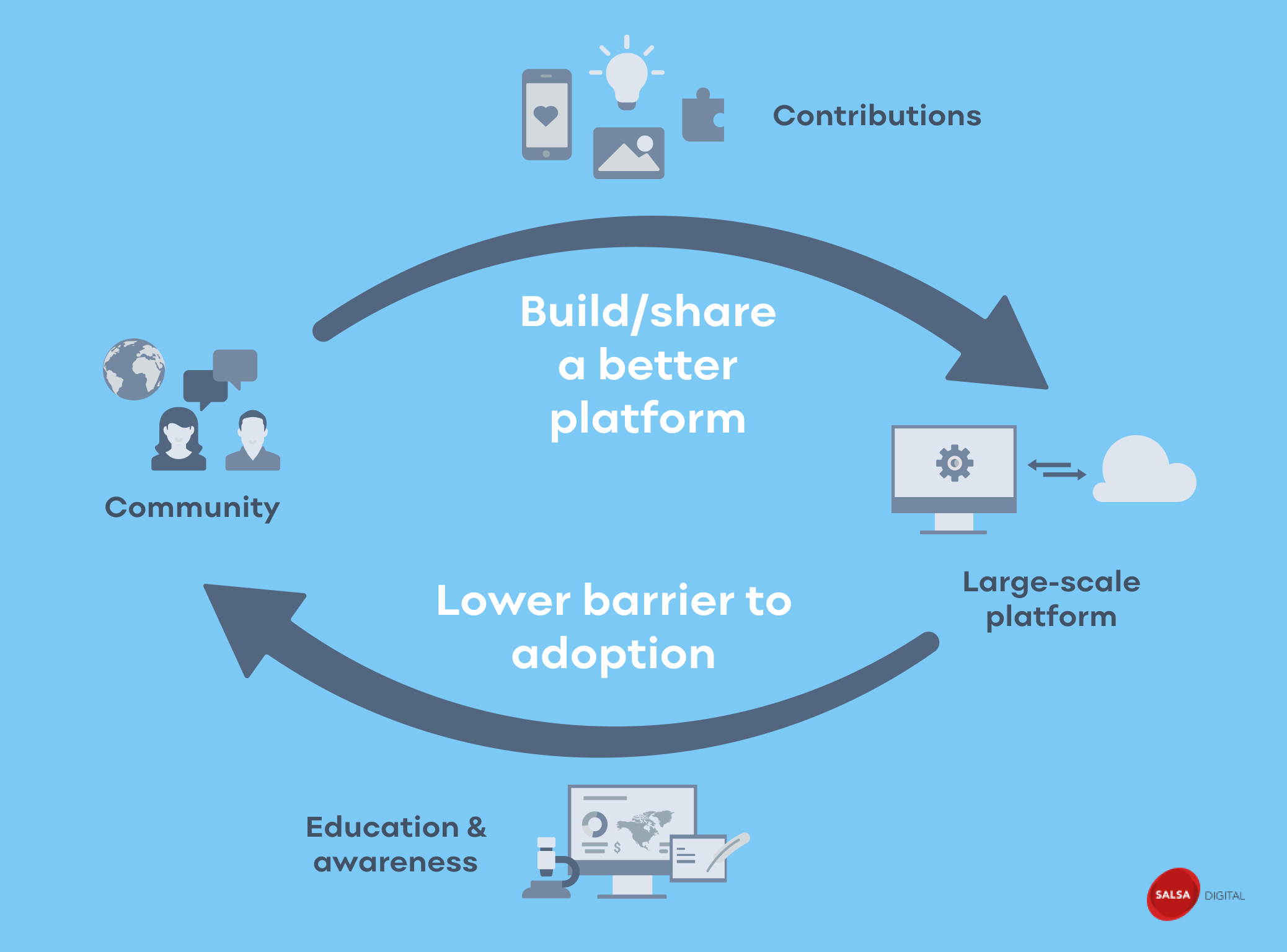 Once a community is established it will gather momentum.
How to build a community around a digital platform
A community engagement blueprint can help drive a community's growth. Salsa's community engagement blueprint sets out specific areas to focus on that will increase awareness and ultimately drive contributions.
There are 7 aspects of our community engagement blueprint:
Planning
Awareness
Partnerships
Education
Places
Tools and processes
Contributions
Salsa Digital community engagement blueprint
Prior to onboarding potential participants, it's important to consider the audience — how to engage them and what topics they want to learn about. Ask yourself these questions:

How can community feedback make our product better?

What aspects of the product will we take ownership of and what aspects of the product will the community take ownership of?

Will our approach change depending on if we are engaging with government agencies or digital agencies?

How will we incorporate any feedback we get from the community?

Once your team has answered these questions, they are ready to move to awareness. It's important to keep in mind that these steps are not linear, so even when your team has all of the answers to the questions above, you should revisit them at set intervals.

Awareness is key to building community around an open source whole-of-government or whole-of-organisation platform, and is also the first step in onboarding potential participants. Awareness can be delivered in a variety of ways, such as:

Lunch and learn events — For example, hold quarterly meetings for community members to come and learn about your platform

Platform 'camps' — A 'camp' that provides UX specialists, designers, developers, web content publishers and editors the opportunity to improve your platform

Case studies and collateral — Case studies, whitepapers, and blogs to show how projects can be successfully delivered and key learnings that came out of the project.

Partnerships are key to scaling community awareness and building momentum. Partnerships are a particularly powerful way a whole-of-government/whole-of-organisation platform can plug into established communities. Leaders of these communities can champion the new platform within their communities. Partnership ambassadors also work well, with community leaders advocating for the platform. Ambassadors may come from academia (e.g. university students and research professionals in the area of open source CMS/IT), business units/government agencies, or other community groups.

Education is key to communicating the large-scale platform's service proposition, providing technical and functional certainty, lowering the adoption barrier, facilitating partnerships and increasing awareness. Effective education could take the form of:

Online training materials — Including formal training and certification for the new platform

Whitepapers and blogs - Whitepapers and blogs around digital topics like design, development, user-centred design and analytics

Educating community members and potential members on available design elements and modules.

Places are key to ensuring the new community has a set of well-defined channels they can use. This further lowers barriers for the community and allows energy to be invested into solving user problems and giving back, rather than trying to understand an appropriate channel or trying to find if a channel/place actually exists. Possible places/channels are:

A community portal that serves community engagement

Meetup(s) — Organised meetups where members can share ideas and knowledge.

Test.opencms — A test site (similar to https://simplytest.me/ for Drupal) where community members can view test data

Community Slack channel — Slack can act as a community enabler for project correspondence

GitHub and Drupal.org — GitHub and Drupal.org are essential to formalise the sharing process

Design library — Open design encompasses all the advantages of open source (community, shared resources, cost reductions, knowledge sharing, etc.) but also includes the cataloguing and sharing of design processes, research and physical design assets that are designed using open source code. An open design community library will enable design sharing.

Open library — A place to share all whole-of-platform open collateral like public education materials and whitepapers

Tools and processes are key to ensuring a digital platform community has a set of well-defined methods for community participation. Tools can include:

Educational material — Sharing educational materials between community participants and platform providers.

Community engagement materials/kit — To help ambassadors and others bring new people into the community.

Ambassador collaboration — Connecting new ambassadors to experienced ambassadors to further drive community uptake.

Community contributions are a key measure of how effective the open source digital platform is for end-users. Contributions — their rate and quality — is an outcome of an engaged community. If the community has an ethos of sharing and collaboration, contributions will continue to scale the digital platform offering. These contributions can be from across a variety of different areas, such as module contributions, design contributions, user research contributions, and educational contributions.
How long will it take?
It's difficult to say how long it will take for a thriving community to be up and running around a new open source digital platform. Hopefully this blueprint helps to give you ideas of the benefit of the open source community approach, and how you can start to create your own community around a new digital platform.
Platforms in action
For more information on whole-of-government and whole-of-organisation open source digital platforms, please see these related Salsa blogs: